Freestyle Includes: Fragments Demo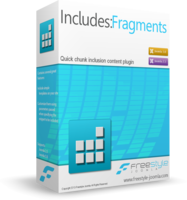 The best time saving component around!
Fragments is a content plugin designed to help display information on your Joomla! Website in multiple areas without you having to type it out each time, or copy and paste. Each fragment can be tweaked to display slightly different information if required. Once in place, the fragment can be updated on the backend and changes will be reflected in your content.
We are still working on our demonstration for Freestyle Includes: Fragments. Please check back soon for updates.
The demo site is currently running Freestyle Includes: Fragments v1.5.2.1980